Digital Ocean
is an inexpensive, simple, super fast  cloud-based hosting company. In addition to having a simple web user interface for creating, managing and backing up your servers, they also use
solid state digital (SSD)
drives. This means that all your sites run faster than servers using traditional magnetic media hard drives.
I've recently moved my WordPress sites to Digital Ocean away from Amazon AWS. Amazon's lowest cost instances which I'd featured in my earlier tutorials, simply have too much latency, whereas Digital Ocean's SSD-based $5/mo. instances are quite responsive. Digital Ocean's web interface is also a lot simpler than AWS'. AWS does offer SSD-based instances, but they are more expensive.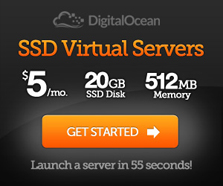 Digital Ocean has recently begun offering IPv6 networking support as well. While this isn't very important right now, it shows that they are staying on the front edge of hosting services.
Related Links